Welcome to the Curriculum and Instruction section of the Dale County Schools website. I am excited about the prospects of another school year and hope that the resources you find on this page will be helpful for our system's continued academic success.

As a 38 year employee of Dale County Schools, I have served in various capacities with 3 different schools before coming to the central office 10 years ago. From Physical Education teacher/coach at Newton Elementary School and South Dale Middle School to High School coach at Dale County High School, I have enjoyed working with the students of Dale County. Making the move to assistant principal at Newton Elementary and South Dale Middle School for a combined 8 years, I was later promoted to principal at South Dale Middle School and served there for 4 years before coming to the central office.

My main duties are: Director of Curriculum K-12 ,System Test Coordinator, and School Improvement Specialist. I am able to work side by side with our teachers, reading coaches, and administrators. Daily inspiration is provided when I witness the wonderful job that our employees are accomplishing in all of our schools.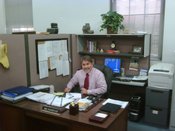 Mr. David Lee,

Curriculum/Instruction

334-774-2355

Email: